MeriCAR.com partners with Mahindra First Choice Services Multibrand Workshops
Mumbai, Maharashtra, May 30, 2013 -- Mahindra First Choice Services is a chain of multi brand car workshops across major cities in India like Bangalore, Chennai, Hyderabad, Jaipur, Mumbai, Nashik, Pune, Surat, Vapi, Coimbatore, Nellore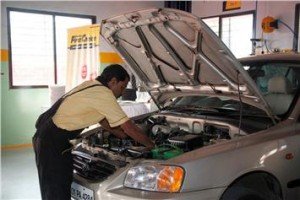 Mahindra First Choice Services Ltd. was established in 2008 and aims to offer a world class car servicing experience in India at value for money prices. The company employs well trained technicians who can cater to the various servicing needs of multi-brand cars. Only quality spares procured at competitive rates are used. MFCS also follows stringent quality measures and a mandatory 50 point "First Choice First Check" which is performed on all cars. The company also offers cashless insurance facilities with leading insurance companies.




ďCurrently, the market is shared equally by OEMs and Independent Garages (IG). Both have their positives and negatives. MFCS aims to present car owners with the positive aspects of both these players with the added advantage of servicing any brand of car. MFCS offers skilled technicians, quality spare parts, state-of-the art equipment and free pick up and drop facility, all geared to give the car owner a world class car servicing experience like never before" says Mr. Vijay Kumar, CEO, Mahindra First Choice Services Ltd.




Launched in 2008 in New Delhi, MeriCAR.com is promoting independent and authorized workshops in New Delhi/NCR. The company has opened sales office in Mumbai.




Partnership with with Mahindra First Choice Services multibrand workshops will give opportunities to online visitors to book car service at MFCS multibrand workshops in other cities. It would definitely scale up business to serve customers all across India.


Notes to Editor

MeriCAR.comô is first in India dedicated car servicing web portal. The venture is helping car owners to search the neighbourhood car service centre, connect to the right car workshop and save on car servicing bill. MeriCAR.comô impacts unorganized after-sales-market and provides personalized support to find the right car workshop in India. MeriCAR.comô search web directory has over 1000 verified car repair and service centres all across India.


MeriCAR.com launched online car servicing booking in Mumbai
What Others say?
I think this is a great initiative and can be very useful for car owners. With more service centers registered in their database and having more and better information about them can really help car owners to decide and book for servicing accordingly.
TechieGyan.com

MeriCAR Servicing Reminder (MCSR) software is free for all, will retrieve contact details in order to keep owners updated about servicing dates. Later, they can keep reminding these users about their other services. This was they donít have to keep tying up time and again to draw user attention. Effective estimation, isnít it?
Watblog.com

MeriCAR Reminds You to Service Your Car. Car owners can setup reminders for their next car servicing due date. The MeriCAR Servicing Reminder (MCSR) is a beta release with version number 1.2.7. It is available free to use for car owners all over India. The web tool sends alerts in SMS and email with details of vehicles. Tech2.com - Network18's integrated technology media brand.

The internet has seen many players participating to promote new launches and their products which apparently didnít see as much success as they did online. Another opportunity in the online space for cars, seems to be available with the online booking for car servicing. Recently, MeriCAR.com was in news for their tie up with SPEED Car Helpline Service in Delhi, NCR region.
Read more